Graffiti artists 'shocked' after tagger Charlie Silver jailed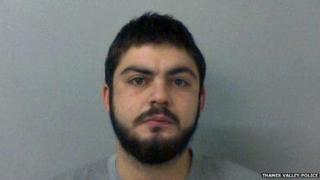 Graffiti artists expressed shock after a convicted drug dealer was jailed for leaving his tags across Oxford, a police officer has said.
Insp Andy Thompson said the 10-week jail term handed to Charlie Silver - known for his distinctive "SOAK" tag - had sent a message to all vandals.
But he added that graffiti in Oxford could be dealt with by having "free walls" where leaving tags is legal.
Silver admitted committing eight counts of criminal damage around the city.
He also pleaded guilty to one count of having an article with intent to destroy or damage property, after he was caught with spray cans and paint rollers.
All his offences happened between January and November last year, and on Wednesday he was sentenced at Oxford Crown Court.
Insp Thompson said he spoke to other graffiti artists after Silver was jailed, and they were surprised at the sentence the 24-year-old received.
He said: "It sends a really good message. The people I spoke to couldn't believe he had been locked up for it.
"But I was also saying, 'look, this is the effect it is having on people, you are causing serious damage to people's property'.
"And I listened to their suggestions about what would help to stop people causing damage."
Insp Thompson said one solution was having free walls similar to those in Bristol and Brighton.
Silver was already serving 28 months in jail for possessing MDMA, the hallucinogen 2C-B and cannabis with intent to supply.
His latest sentence runs concurrently with the earlier one, but Silver will have to pay £508 compensation and an £80 victims' surcharge.