Gatwick adverts banned by ASA for 'misleading public'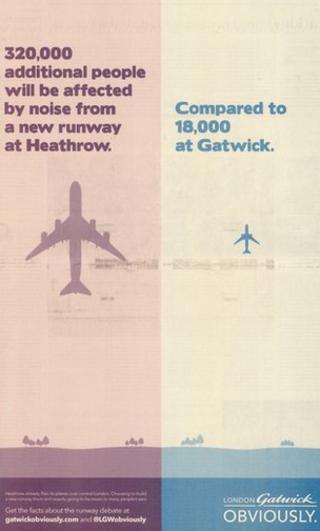 Misleading adverts produced by Gatwick Airport about the noise from a new Heathrow runway have been banned by the Advertising Standards Authority (ASA).
The authority upheld two complaints about the posters, which compared the number of people affected by a new runway being built at Heathrow or Gatwick.
It said the basis for the airport's comparisons was unclear.
Gatwick said it disagreed with the decision and may appeal.
It claimed the figures came from the Airports Commission, but added it would take on board the ASA's suggestions if it were to use them in a different advert.
Comparative claim
At the time the adverts were published, the Airports Commission was consulting on three shortlisted options for additional runway capacity in the south east of England.
It recommended that Heathrow be chosen but the government has not made a final decision, so Gatwick could still be picked.
This means the airport will continue to lobby and promote Gatwick as an alternative.
The banned posters stated that "320,000 additional people will be affected by noise from a new runway at Heathrow. Compared to 18,000 at Gatwick".
The ASA said the use of the word "additional" could be misinterpreted to mean the number of people newly affected by expansion, on top of those currently affected.
Two of the complainants challenged whether the comparison was verifiable, while another two challenged whether the adverts omitted material information about the flight paths.
Gatwick Airport stated that the figures quoted were sourced from the Airports Commission's own independent analysis of the number of people who would be newly affected by Heathrow's proposed North West runway, compared to a second runway at Gatwick.
The ASA said the comparison the airport made was unclear.
A Gatwick spokesman said the figures it had used were not in dispute and were mid-range, reasonable estimates.
It said the ASA had taken exception with its use of the word "additional" and suggested that "newly affected" would have been more appropriate.
"Gatwick Airport makes no excuses for making the public aware of the huge difference in the number of people who would be impacted by noise if Heathrow were to expand, compared to Gatwick, and the figures were not disputed.
"While we disagree with the ASA's assessment of how these figures were presented, the advert in question will not be used again," it said.