Bosley mill explosion: HSE finds 'dust issues' at blast site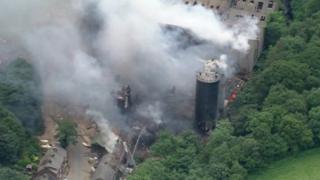 Enforcement notices have been served by safety inspectors at the site of a fatal mill explosion due to "dust issues" in buildings left standing.
Four people are believed to have died in the blast in Bosley, near Macclesfield, on 17 July.
The Health and Safety Executive said the notices related to sheds containing equipment at Wood Treatment Ltd (WTL).
In a statement last week, WTL said it "could not predict" when the destroyed factory would be operational again.
A prohibition notice has been served preventing work in one area, with a further improvement notice served for a different area.
The HSE said the separate enforcement actions were due to differences in the level of risk in the two sheds, adding that further enforcement action had not been ruled out.
Head of HSE operations for the North West, Steve Smith, said: "Inspectors continue to work closely with emergency services in the ongoing investigation into the cause of this tragic incident.
"HSE specialists are on site to assist with the collection of evidence in order to try to establish exactly what happened."
The four people missing after the blast were Derek Moore, 62, from Stoke-on-Trent, William Barks, 51, from Leek, Jason Shingler, 38, from North Rode, and Dorothy Bailey, 62.
Will Barks, Derek Moore and Dorothy Bailey have been identified as victims. Other remains have been found. Jason Shingler, 38, is still missing.
On Monday, the GMB union wrote to the site's owners to raise a formal grievance after claims the company was refusing to pay about 45 staff during the 30-day notice period for their redundancy.
The explosion was described by rescuers as the "worst incident of its kind" in a decade.