North East Ambulance paramedics attacked by drunks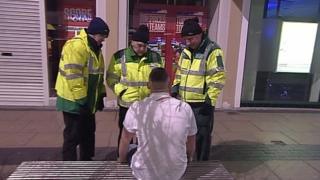 Almost half of paramedics in north-east England have been attacked on duty at least six times by drunken members of the public, a study reveals.
Research by Balance, the North East Alcohol Office, showed 47% of North East Ambulance Service (NEAPS) staff had reported being attacked.
The study also showed 42% of crews had reported being sexually assaulted.
NEAPS chief executive Yvonne Urmston said alcohol-related incidents were taking up "far too much of our time".
Balance claims alcohol-related harm cost the region £911m in 2013/2014, with the NHS picking up more than 25% of the bill.
The survey revealed 54% of staff had been threatened at some point while on duty by "an intoxicated person".
'Potential danger'
Director Colin Shevills said: "It's outrageous that paramedics don't feel safe in their working environment as a result of other people's alcohol misuse.
"These are people who are there to help us when we need it most, yet they are living in fear of physical and verbal abuse on a daily basis.
"Our relationship with alcohol is out of control. We need to bring it under control by making alcohol less affordable, available and less widely promoted."
Ms Ormston said: "Our crews don't just deal with drunk weekend revellers, they see the effects of alcohol at all times of the day and all times of the week, from patients of all ages and backgrounds.
"Alcohol-related calls take up far too much of our time and are often an abuse of our service, taking our resources away from patients who need us most.
"Intoxicated patients take much longer to triage on the phone and are more likely to be aggressive, placing staff in potential danger and increasing their stress levels.
"We take a zero-tolerance approach to assault and support staff every step of the way if they have been abused."
Balance surveyed 358 paramedics, representing 32% of the NEAS workforce.