Tattoo 'removal' kits burning victims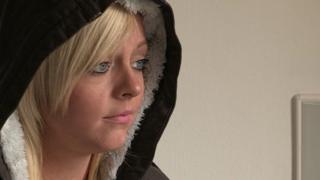 People are pouring chemicals containing banned acids over their skin in a bid to remove unwanted tattoos, a BBC investigation has found.
The do-it-yourself tattoo removal kits are being sold online for £15.
One dermatologist said the products were "highly likely to cause severe burns" and "quite possibly result in permanent scarring".
The Trading Standards Institute admitted it has not done enough to warn people about the dangers.
Jess Hardy, 23, from Leominster, Herefordshire, said she was left with a "hole" in her arm and without feeling in that area after using the kit.
"It felt like someone had poured like something flammable on my arm, lit it then poured a kettle on it," she said.
Tests conducted at the University of Birmingham found it contained two banned products: hexachloroethane, once used in smoke grenades, and trichloroacetic acid (TCA), used for wart removal.
"I'm shocked it's actually that bad," Miss Hardy said.
"It's unbelievable that someone has been sold that. I want my arm back, my normal arm."
Clinical dermatologist Sean Lanigan advised people not to use the products and said they do not work.
"It's very unlikely to remove the tattoo," he said.
"People are not only wasting their money, they're exposing themselves to a significant risk of damage."
Aaron Mullen, who runs a tattoo shop in Hereford, said the number of people using tattoo removal kits they had bought online was increasing.
He said he had seen 10 people who had suffered injuries as a result of the products in the past year.
"It needs to be brought to people's attention and people need to stop using it," he said.
Christine Heemskerk, vice chairman of the Trading Standards Institute, said the findings of the BBC Inside Out investigation would be discussed with other trading standards bosses and industry experts on 14 October.
She said it would then be up to individual trading standards bodies to issue advice.
"This is a really serious risk and consumers should definitely not be using this," she said.
"I have to admit at the moment Trading Standards hasn't really done enough to raise awareness for consumers because this is a fairly new product.
"But now we know that there are issues out there - hopefully we can get the message out there to consumers that they should not be buying these products, especially over the internet."
Inside Out is on BBC One West Midlands on Monday, 28 September at 19:30 BST and nationwide on the iPlayer for 30 days thereafter.