Bomb detectors conman Gary Bolton ordered to pay £1.25m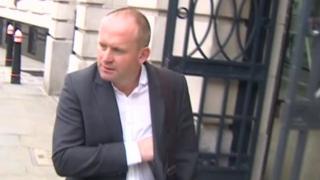 A convicted fraudster who sold fake bomb detectors around the world has been ordered by a court to pay more than £1.25m.
Gary Bolton, 49, of Chatham, Kent, was jailed in August 2013 for seven years after selling more than 1,000 devices for up to £10,000 each.
He claimed they could track down bombs, drugs, ivory and money but they were just boxes with handles and antennae.
The Old Bailey was told Bolton made £6.8m in today's money.
But prosecutor Sarah Whitehouse QC told the confiscation hearing his assets were much lower.
Judge Richard Hone ordered Bolton to pay £1,265,624, including more than £400,000 from the sale of his house, excluding 5% of the proceeds owed to his partner Carly Wickens.
He was given three months to pay the money, most of which is in British or foreign bank accounts, or face a further seven years in jail.
The same judge told Bolton at the end of his 2013 trial the detectors were "useless dross" that had damaged the reputation of British trade abroad.
They were made at Bolton's home and the premises of his company Global Technical Ltd, near Ashford, and sold in more than a dozen countries, including Mexico and Thailand.
One purchaser X-rayed a device and found nothing inside the box, the court was told.
In 2010, a Home Office defence expert tested Bolton's GT200 detector at the request of the Office of Fair Trading and found it had "no credibility as an explosive detector" because it had no functioning parts.