Nick Gargan: Avon and Somerset chief constable quits job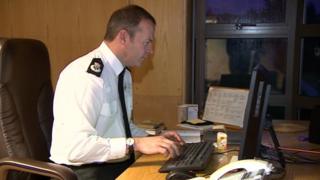 A suspended chief constable has quit his job three months after being found guilty of eight counts of misconduct.
Avon and Somerset's Nick Gargan was found to have "breached data protection" rules and stored "intimate" material on his police-issue phone.
The BBC's Steve Brodie said Mr Gargan quit under "intense pressure" from Crime Commissioner Sue Mountstevens.
She had begun proceedings to force him to step down, a move backed by the chief inspector of constabulary.
Ms Mountstevens said Mr Gargan had "abused his position" while 24 out of 25 senior officers, had also passed a vote of no confidence in him.
The PCC said Mr Gargan had been given three months' pay "in lieu of notice as the terms of his contract state".
She added: "This was not a decision I took lightly and I have considered it very carefully however in order to bring the legal proceedings to a close this is the most cost effective outcome."
"It also means that I can begin the process of recruiting a new Chief Constable as soon as possible and the organisation can move on," she said.
'Protracted investigation'
An independent panel had recommended Mr Gargan be allowed to return to work despite finding him guilty of misconduct.
Mr Gargan was also cleared of separate charges of gross misconduct.
The Chief Police Officers Staff Association, on behalf of Mr Gargan, previously said he had "complied with every requirement of the protracted misconduct investigation and subsequent hearing" and had apologised for misconduct.
"He placed his fate in the hands of an expert professional panel, which made a clear recommendation that he should go back to work."
Mr Gargan started his job as chief constable of Avon and Somerset Police in 2013 and was taken on by then new PCC Sue Mountstevens.
Temporary Chief Constable Gareth Morgan will continue until a permanent replacement is found.