Families of Britons facing Indian weapons charges speak out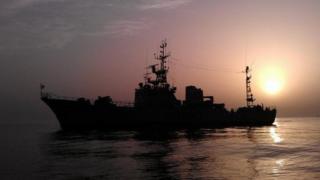 The families of British men facing trial in India on weapons charges have spoken out on the second anniversary of their arrest.
John Armstrong, from Wigton, Cumbria, and Nick Dunn, of Ashington, Northumberland, were among six Britons working as maritime security guards on a ship monitoring pirates.
The charges were dropped, but following an appeal by police the Indian Supreme Court ruled a trial must be staged.
It is due to begin shortly.
'Remain positive'
The men were employed by American-based anti-piracy firm AdvanFort which charges clients up to £60,000 a time for armed guards to escort ships across a high-risk area between the Indian Ocean and the Red Sea known as Pirate Alley.
The MV Seaman Guard Ohio was transporting its security guards between missions when it was boarded by police and its crew arrested on suspicion of illegally possessing weapons and illegally taking on fuel.
Mr Armstrong's sister, Joanne Thomlinson, said: "We tried not to think about the second anniversary too much. I think it's better to look forward and try to focus on the trial and remain positive.
"I don't think we've got Christmas as a goal [for him to return home] in our heads. It's difficult to put a timeframe on what's happening."
Mr Dunn's sister, Lisa, told BBC Newcastle: "It affects us every single second of every single day and has done for two years."