Ancient archive of West Country Wyndham family to be shared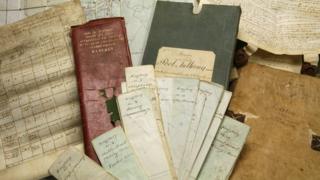 An archive which documents the lives of West Country people and places over the course of hundreds of years is to be made available online.
Papers from the 12th century onwards form the Wyndham family archive, which is regarded by some as "a foundation stone of West Country history".
Included are estate records, tenant lists, deeds and maps from properties across Somerset, Devon and Wiltshire.
A grant of £31,570 has been given to make the information more accessible.
'Vast information'
Liz Grant, an archivist with the South West Heritage Trust which has been given the money, said the project would take 15 months to complete.
"But it means a vast amount of new information will become accessible," she added.
---
The four categories of the collection:
Wyndham estate records including deeds, surveys, correspondence, accounts and maps
Manorial records for 19 Somerset manors dating between the 16th and 20th centuries
Papers of West Country interest, including harbour accounts and the lease of Williton Fire Engine
Correspondence of members of the Wyndham family
---
John Wyndham was the first of the family to settle in Williton, Somerset, in 1520.
According to the trust, he served at the French Court in the retinue of Mary, sister of Henry VIII and Queen of France.
Over the following three centuries the family acquired tens of thousands of acres of estates across Somerset, Devon and Wiltshire.