Yorkshire women start 'oldest rowers' Atlantic challenge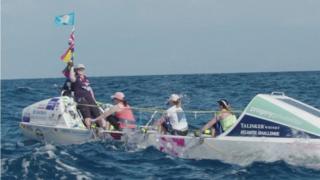 Four women from North Yorkshire have embarked on an Atlantic rowing race in a bid to become the oldest all-woman crew to row any ocean.
The Yorkshire Rows set off from La Gomera in the Canary Islands.
Niki Doeg, 44, Helen Butters, 45, Frances Davies, 47, and Janette Benaddi, 51, are competing against 25 other teams in the Talisker Whisky Atlantic Challenge.
They aim to row 3,000 miles to Antigua in the Caribbean in under 55 days.
Four ex-servicemen also taking part in the challenge hope to become the first all-amputee team to make the trip.
The women are raising money for cancer charity Maggie's and Yorkshire Air Ambulance.
They became friends after joining York rowing club, and all have children at the same school.
If they beat the current record of 51 days, Yorkshire Rows could also become the fastest four women to cross the Atlantic.
The challenge was due to begin on 15 December, but was postponed due to bad weather.
A team statement said: "Rowing is a great team sport because if you don't all row together the boat doesn't go anywhere and this is so true in life."
Skipper Janette Benaddi, a clinical researcher, said: "We have at least 12 baby wipes a day [to wash with], but I keep finding things the girls are bringing on board and throwing them back on shore so the boat's not too heavy to row."
Solicitor Ms Davies is chief navigator and business owner Ms Doeg is in charge of electronics.
Mrs Butters, an NHS communications expert, has the responsibility of making drinking water.
She said the women were determined to remain friends.
"It's more important to us to enjoy it and get to the other side than to fall out and be competitive and want to beat other people," she said.