Major Tim Peake's parents 'thrilled' at spacewalk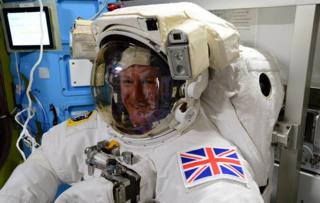 Major Tim Peake's parents have spoken of their excitement at watching their son carry out his first spacewalk.
Before the spacewalk the couple from Westbourne in West Sussex said they had watched the International Space Station (ISS) fly over their home.
Nigel Peake said: "I gave him Godspeed and a good message from us." He said it was "wonderfully exciting".
Maj Tim Peake has become the first astronaut representing the UK to walk in space.
'Absolutely thrilled'
Mr Peake Snr said: "I was watching the station going over this morning, it was a brilliant pass in clear blue skies.
"It seems quite surreal that your son is up there."
He added that carrying out a spacewalk had been a long-term ambition for his son.
"It has been his total ambition, it's like Christmas Day every day."
Maj Peake's mother, Angela, she had been "a bit nervous" before the spacewalk.
"We are absolutely thrilled. This is a proud day," she said.
---
Tim Peake in space: Want to know more?
Special report page: For the latest news, analysis and video
Guide: A day in the life of an astronaut
Explainer: The journey into space and back
Test yourself: Do you have what it takes to be an astronaut?
Social media: Twitter looks ahead to lift-off
Timeline: How Tim Peake became a British astronaut
Quiz: How dangerous is life in space?
---