Pacific Ocean rowers: Coxless Crew reach Australia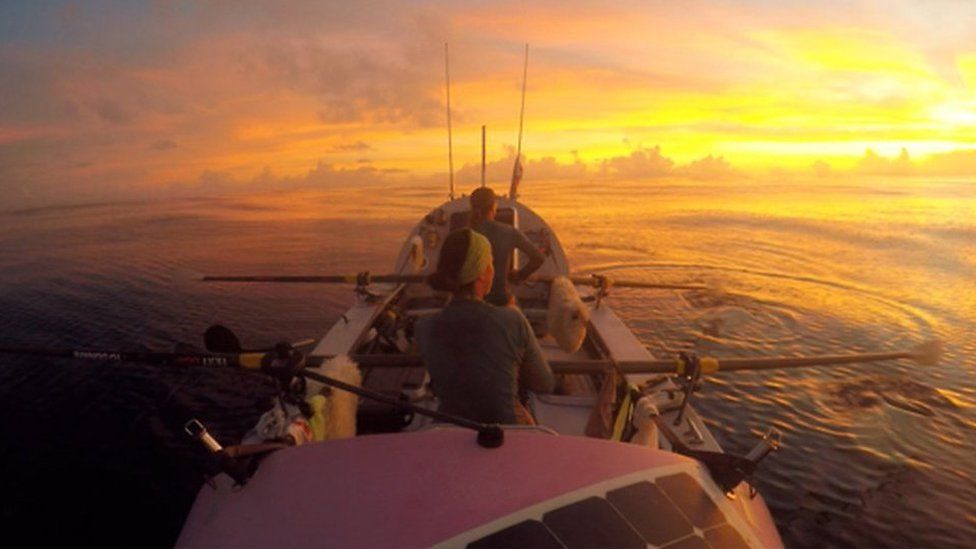 A team of female rowers have arrived in Australia nine months after setting off from San Francisco to cross the Pacific Ocean.
After 257 days at sea, with supply stops in Hawaii and Samoa, their 29ft boat, Doris, crossed the finish line at Cairns just before 01:00 GMT.
The crew - made up of three permanent members and three others each rowing a leg - have claimed two records.
Laura Penhaul, Natalia Cohen and Emma Mitchell, along with final leg rower Meg Dyos, hugged each other as they entered the Marlin Marina in the Queensland city.
Sharing beers with family and friends who had gathered to welcome them, the adventurers described their achievement as "an overwhelming experience".
Laura Penhaul, 32, originally from Cornwall but now living and working in London, is the founder and leader of the Coxless Crew. The lead physiotherapist for British Paralympics Athletics, she is a keen marathon runner, cyclist and triathlete
Natalia Cohen, 40, is based in London. An adventure tour leader and manager, she has lived and worked in more than 50 countries in the last 15 years and has completed the Inca Trail in Peru 10 times
Emma Mitchell, 30, originally from Marlow in Buckinghamshire and now living in Portsmouth. An expedition manager, she has rowed for England and is an ex-Cambridge Blue who competed in the Boat Race
Isabel Burnham, 31, is a solicitor from Saffron Walden near Cambridge who joined the Coxless Crew for the first leg, from San Francisco to Hawaii. She also rowed for Cambridge University
Lizanne van Vuuren, 27, a South African osteopath who grew up in Newbury, was part of the crew for the second leg, from Hawaii to Samoa.
Meg Dyos, 25, an English graduate who works as an estate agent in London, joined the Coxless Crew for the third leg, from Samoa to Cairns
Despite taking three months longer than originally planned, the 9,200-mile (14,800km) expedition has set two world records; the women becoming the first all-female team and the first team of four to row the Pacific.
They rowed continuously as pairs in two-hour shifts, sleeping 90 minutes at a time.
Each consumed 5,000 calories a day, devouring freeze-dried meals with a side of protein bars, chocolate, fruit or nuts, washed down with desalinated sea water.
But they took a Christmas cake on board as a treat on 25 December, a day which they unsurprisingly spent at sea.
Along their epic journey they had to contend with a battering from a tropical storm, waves the height of houses and the approach of a humpback whale that surfaced just yards away from their boat.
Drenched by rain and seawater they endured painful sores, but also faced temperatures so hot they cooked a pancake on the deck just from the sun's rays.
Related Internet Links
The BBC is not responsible for the content of external sites.