Highs and lows of the Birdman contest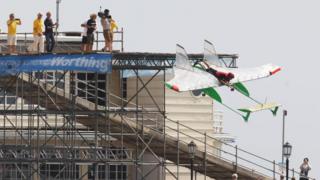 As the Worthing International Birdman competition flies into the great beyond, BBC News takes a look at some of the highs, lows and outright plummets of the two-day festival.
The spectacle of birdmen and birdwomen in home-made machines or costumes flinging themselves from a platform on Worthing Pier in West Sussex has pleased summer crowds for years.
Long-distance fliers also had the chance to pick up the top prize - not only becoming top of the pecking order, but a nice nest egg of £10,000 was awarded to the person who went the furthest -providing it was more than 100m (328ft).
However, this tradition is now set to end. It is folding up its wings because it is no longer financially viable, something which Joel Hicks, who has competed many times, thinks "is a great gut-wrenching shame".
"It's a sign of how things are going across the board," said Mr Hicks, a four-time winner of the Kingfisher class of the event, which is for competitors in fancy dress.
"It's echoed all the way down to local village carnivals. There's no one reason, but businesses seem reluctant to come forward and sponsor the events."
Luckily for daredevil Mr Hicks, who runs a foundation with the aim of "just putting a smile on people's faces", he has plenty more activities lined up, including gravy wrestling (he's the current title-holder), the International Custard Pie-Throwing Championship and something called "sexy bingo" which is held in the unlikely location of Tamworth.
Despite these distractions, Mr Hicks said the Worthing Birdman competition was "the best event on the whole calendar".
It was held in Worthing for eight years - moving from its previous location in Bognor Regis after the pier was shortened, meaning the depth of water did not meet the crash-landing safety specifications.
Mr Hicks, from Leicester, said he has enjoyed his time at the competition so much he thinks of Worthing as his "second home".
"It's properly scary, mind you. Standing on the ramp you realise how high it is - it's a 40ft (12m) drop. It's frightening, but there's no greater thrill than standing on that ramp and seeing all the people down there. The beach is packed solid with spectators for two days.
"My flight - if you can call it that - is fantastic and then you crash into the sea and get dragged back. It's amazing."
The event itself was hatched and held in nearby Selsey in 1971 and was originally called the Birdman Rally, with a prize of £1,000 for anyone who could fly 50 yards (45.7m).
A contestant called David Cook nearly made it in 1974 with a 48-yard flight.
In 1978 the organisers were told they could no longer use the lifeboat pier, so the Birdman contest moved to Bognor Regis. With the move came an increase in the height of the take-off platform and therefore the likelihood of someone achieving the prize, which had increased to £3,000.
The 1980s saw the competition go international, with Swiss and German teams entering in 1981. The Germans, with stereotypical efficiency, firmly plonked their beach towels down on the event and made off with first, second and third place in 1991.
Over the years, there have been blind entrants, an inmate from a nearby open prison, and people dressed up as everything from Mary Poppins to an A-team van.
Mr Hicks said he hoped someone would come forward and offer to stage it again.
For now, though, high fliers will have to leap into other abysses. Or maybe take a leaf out of Mr Hicks' book and challenge him for the crown of gravy wrestling champion.