Lifesize superhero cakes at Birmingham NEC exhibition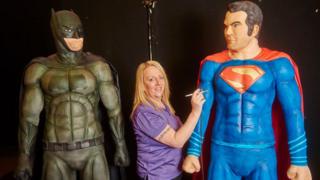 Caked crusaders Batman and Superman are among hundreds of stunning sweet treats on display at the annual Cake International exhibition.
Rose Macefield, from Dudley, West Midlands, spent 200 hours carefully crafting the comic heroes for the three-day event.
She said: "I did consider several movies as a source of inspiration, but the new Batman v Superman movie will be released just a week after the show.
"I thought it would be perfect timing."
More than 30,000 people are attending the exhibition at the NEC in Birmingham.
There are more than 400 exhibitors at the show, many of whom have spent weeks creating their intricate cakes.
Among the designs is a cake of the star of BBC's Poldark, a Game of Thrones Direwolf and Star Wars characters.
The annual event has attracted a huge following, with visitors travelling from across the world to attend.
In 2013, amateur baker Lara Clarke made headlines after she baked a lifesize Johnny Depp cake, as his Pirates of the Caribbean character Jack Sparrow.