Farnham and Alton railway line to reopen after landslip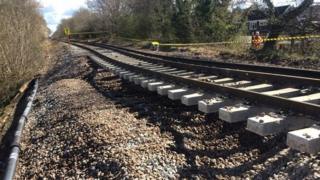 A railway line which was closed due to a landslip is to reopen next week, Network Rail has announced.
Temporary repairs have been made to an embankment on the Farnham to Alton line after it collapsed on 13 April.
A replacement bus timetable has been in operation since engineers noticed the track at Wrecclesham, Surrey, was starting to dip after heavy rain.
The line is due to reopen on 4 May. Network Rail warned of possible future closures for stabilisation work.
A longer term solution is expected to cost millions of pounds.