Postcards from Cancer-Land: Photos show 'reality' of treatment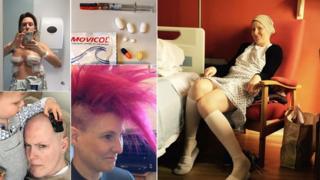 The outside perception of people with cancer often brings to mind pale brave faces and a determination to "beat" the disease. But how does it appear to real people living with the real illness?
For some, the common depictions do not tell the whole story. As one patient, Heidi Loughlin, says: "These adverts are what we Cancer-Land dwellers like to call 'pink and fluffy'.
"They are real and they are very sad and they are emotional but they don't go the whole hog," she adds. "They are more like half hog."
Determined to show the world what cancer treatment is really like, she now runs a blog where women are urged to share pictures of their experiences.
"These are your sisters, friends, neighbours, that bitch from down the road, your teacher, the woman who does your accounts," she says.
Some of these pictures are not easy to look at. Others display humour.
These are postcards from Cancer-Land.
Miranda Ashitey
"As nosebleeds are an annoying side effect of chemo, you can take the mature approach or the immature approach.
"Guess which one I settled on?"
Theresa Scollan Cowie
"Why paint a boiled egg at Easter when you can paint mum's bald bonce?"
Leonie Cox
"Here, I'm actually trying to look sexy in surgery stockings.
"It sounds silly but I have so much more time with my children now. Quality time, full of love and appreciation for life.
"I have this illness to thank for that."
Helen Weller
"This is my surgery get-up (hat because it was the first day of snow in 2015). And my method of stopping my housemates stealing my milk."
Scrawled on the side of the carton is: "Helen's milk. She's got cancer. Don't drink it because it's contagious."
Kim Smith
"First wig fitting.
"Most of my pictures show me laughing or messing about but my friend took this when I didn't know.
"I think my face says it all - we all know it has to be done but the reality is like a freight train regardless of how we try to keep it bottled up and pretend it's ok."
Caroline Issac
"This is hair which came out on 26 October. Note use of rubber duck for scale."
Christina Bray
The "like a boss" meme - in which people take selfies promoting self-empowerment - has taken the internet by storm. Here Christina says "chemo like a boss".
Hayley Purnell, Heidi Loughlin, Joanne Hunt
Hayley: "So hard not to cry , but needed it to be fun for my son who has autism."
Heidi: "Just call me Race Track Head"
Joanne: "The day my hair grew back... and i could put a clip in it."
Alison Flouri
"A typical day's medication."
Victoria Allan
"Losing a toe nail."
Jennifer Morrison
"Mastectomy on right side with immediate reconstruction x."
Tracy Hendry
"My daughters baby bump. Something that's seeing me through the chemo xx"