Man jailed for 150mph car chase on A1 with girl, 3, in back seat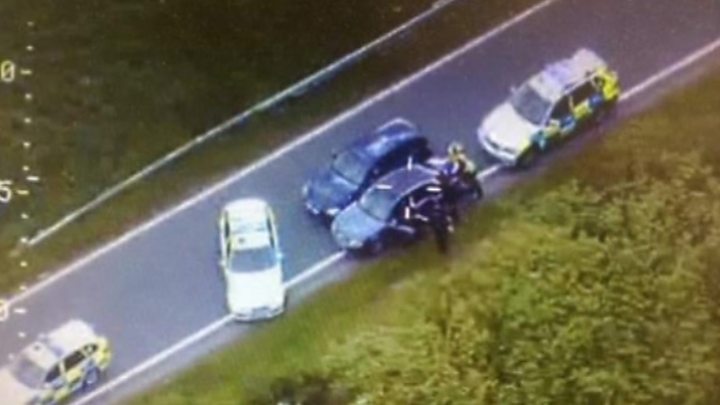 A drug dealer who drove at speeds of up to 150mph with a three-year-old girl in his car during a police chase has been jailed for two years and eight months.
Thomas Birkbeck swerved in and out of traffic and hit five vehicles after failing to stop on the A1 near Catterick, York Crown Court heard.
Police said when they finally stopped him near Boston Spa after a 35-mile chase the toddler was "hysterical".
The 31-year-old admitted four charges, including dangerous driving.
Sentencing Birkbeck, of Silverdales, Dinnington, Rotherham, Judge Deborah Sherwin said his driving had been "truly appalling".
"Anyone who would've seen that footage would've been horrified," she said.
North Yorkshire Police described their shock when they found the child in the back of the Audi A4 after the incident on 17 May.
Traffic Sergeant Julian Pearson said: "I then looked into the back and saw a hysterical three-year-old.
"It was chilling, upsetting and ... just the sheer thought that, had that vehicle crashed, that child would have died.
"And, could I have lived with myself knowing that?"
Police footage of the pursuit, which was played in court, showed how the car was chased up the A1 to Scotch Corner before "a dramatic U-turn" and then back down the opposite carriageway.
Birkbeck was initially stopped for a minor traffic matter on the northbound carriageway before he panicked and sped off, the court heard.
He had a large amount of cannabis, worth £5,000, in the boot of his car which he was just about to off load, the court was told.
Birkbeck also pleaded guilty to driving while disqualified, driving without insurance, and possession of cannabis with intent to supply.
A woman who was arrested in connection with the incident has been released from bail.