'Postcode lottery' for Yorkshire coeliac patients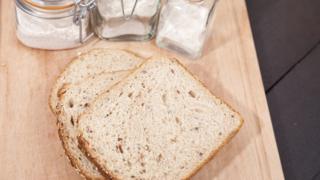 Patients with coeliac disease are at the mercy of a prescription "postcode lottery" in Yorkshire, a charity says.
The autoimmune disease, triggered by gluten found in foods such as bread and pasta, can cause severe symptoms.
Patients can get prescriptions for gluten-free products to help treat the illness with a strict diet.
Coeliac UK said about a third of clinical commissioning groups (CCGs) in the region were not sticking to national prescription guidelines.
In Sheffield, prescriptions have halved while a new supermarket vouchers scheme is running in York.
Dr Zak Murray, Sheffield's CCG medical director, said the area was the second highest in the country in terms of prescribing gluten-free items.
---
Example of monthly prescription for coeliac patient
8 x 400g bread (or 4 x 500g mix suitable for making bread)
3 x 500g pasta
2 x 300g breakfast cereal
2 x 110-180g pizza bases
Based on patient being a male, aged 19 to 59
Source: Coeliac UK
---
Earlier this year, Sheffield CCG halved the amount of gluten-free products it prescribes, saving the NHS £225,000 a year.
York's CCG has taken a different approach and has become the first in the country to pilot a scheme giving patients supermarket vouchers to spend.
National Prescribing Guidelines recommends how many products patients can expect to receive based on their age and gender every month, with "units" being allocated to the different types of gluten-free staples including bread, pasta and flour mix.
However, these guidelines do not have to be followed by the local CCG, which can make its own decision.
Gluten-free foods in shops can be up to four times more expensive than standard foods and paid-for prescriptions are issued to help cover the cost.
Coeliac patient Jackie Bailey, from Sheffield, said: "The number of units has gone down from 16 to eight [in Sheffield] so that equates to having to buy another eight loaves of bread, which is about £25 a month."
The charity described the situation as a "postcode lottery".
Chief executive Sarah Sleet said: "We know how difficult it is to stick to a gluten-free diet and this is the only aid the NHS provides to people to help.
"Simply arbitrarily cutting amounts and types of food is not in the patient's interests or the long-term interest of the NHS."
Other CCGs in the region said they were reviewing policies on the amount they spent on providing gluten-free products.