Bishop George Bell: Review to look at 'abuse' case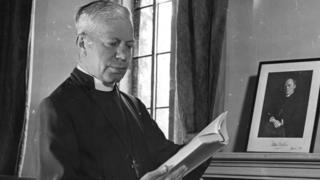 An independent review is to be carried out into how the Church of England handled the case of a former bishop named as an alleged paedophile.
The church settled the civil claim of a woman who said she was abused by the late Bishop of Chichester, George Bell, in the late 1940s and early 1950s.
The review will look at how it handled the allegations, first made in 1995, and the decision to settle the case.
Bishop Bell's supporters have been critical of the church's investigation.
'Lessons to learn'
The George Bell Group said Bishop Bell - Bishop of Chichester from 1929 until his death in 1958 - was "much admired" and noted for being one of the first to speak out in the 1930s against the dangers Adolf Hitler posed.
Its members claim the Church of England made little effort to corroborate the allegations with any reference to the clergyman's diaries or papers, or those who had worked with him.
The Church of England said its national safeguarding team would commission the review to see what lessons could be learnt from how the case was handled.
It said it had always recognised Bishop Bell's principled stand in World War II, but it also had a duty to listen to survivors.
'Support survivor'
The allegations of abuse, by a woman known as "Carol", were first taken to the Diocese of Chichester in 1995 but no action was taken.
It was only after she took the allegations to Lambeth Palace in 2013 that a claim was settled last year.
The review will look at the how both sets of allegations were handled and the settlement of the case.
"As in any serious safeguarding situation, it is always important to learn lessons from the process and this review will ensure this is done," said Bishop of Chichester Dr Martin Warner.
"I have, however, made it absolutely clear that the survivor in the case be reassured that we will do everything we can to continue to support her as we have done throughout this process."