Ex-Warwickshire Police detective Paul Greaves cleared of £113,000 theft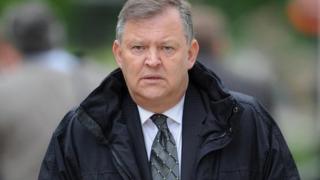 A retired detective has been unanimously cleared of stealing £113,000 from a police storage area.
Paul Greaves, 57, of Carlton, Nottingham, denied stealing the cash from Warwickshire Police's former headquarters.
The money was found to be missing two years after it was seized under the Proceeds of Crime Act.
A jury at Birmingham Crown Court deliberated for seven hours before acquitting Mr Greaves of theft.
The jury at a previous trial was discharged after failing to reach a verdict.
More on this and other Warwickshire stories
Mr Greaves, of Carlton, Nottingham, retired in December 2010, nine months before the cash was reported missing from a cellar at the force's former office in Leek Wootton.
Members of Warwickshire Police's serious organised crime team (SOCT) did not use a force-wide computerised system to record seizures of cash, the court heard.
Mr Greave's barrister, Brian Dean, described the force's property management system as "shambolic".
Det Supt Nick Tomkinson, from the force, said: "We fully accept the decision of the jury."
He said the case remained open and policies and procedures in relation to the retention of seized cash had been reviewed.