Bosley mill explosion: Village 'recovering' from disaster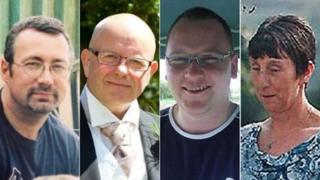 Family, friends and neighbours of the four people killed in an explosion at a mill in Cheshire are coming to terms with the tragedy, villagers have said.
Dorothy Bailey, William Barks, Derek Moore and Jason Shingler died in a huge explosion at the Wood Treatment Ltd plant in Bosley, near Macclesfield, on 17 July last year.
Services are planned to mark the first anniversary of the blast.
More than £237,000 has been raised following the disaster.
More updates on this and other stories in Stoke and Staffordshire
Martin Freston, the chairman of the fund, said the first anniversary was going to be a "difficult" time for everyone who knew and worked with the four who died, but said the village "is moving on".
"Anniversaries bring things back again, and I think the uncertainty about what's going to happen down at the site, and the length of time it's taking before there's any sort of outcome as to what really did happen, still hangs over the village," he said.
"When those times come, then I think we'll be able to move on better."
Mr Freston said they would keep working together to raise funds for those affected.
Kelvin Barks lost his brother William - who he described as "the rock of the family" - in the explosion, and said it was "tough" for the family to deal with.
"Sometimes life moves on very slowly when it's a very bad wound," he said.
"Now it has sunk in, 12 months on, it's no easier."
Mr Barks said the family would stay together over the anniversary, and called for answers over how the site was run.
"We'd just want justice to be done."
Jim Randall, whose brother-in-law Derek Moore died in the disaster, had worked at the mill for 39 years, and remembers hearing "this horrific bang" when the explosion happened.
"Luckily I was probably the farthest person away from it," he said.
"I looked towards the mill and it had gone. There was nothing there - just flames."
Mr Randall said they knew "straight away" the missing people were dead, but said everyone had rallied round to help each other.
"People are still making a big effort in Bosley," he said.