Woman marries Twitter bookshop crush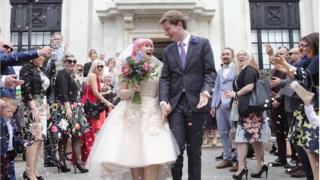 A couple who met over Twitter have found their marriage is now trending on the social media site.
Victoria and Jonathan O'Brien got together after Victoria took a shine to the person behind the tweets for a Waterstones bookshop account and got in touch.
Mr O'Brien, the man behind the posts, had built up a following with his humorous tweets for the store.
His new bride said she was dared by a friend to get a date.
"It took a couple of months - Jonathan ignored my first tweet but the second had a typo and he picked up on that," she said.
Online interest built when, on Sunday evening, Victoria tweeted a photograph of her original 2012 message declaring her love for the @WstonesOxfordSt account manager, alongside a "just married" photo, and the famous line from Jane Eyre: "Dear reader, I married him".
The couple, from London, have since been contacted by people from all over the world. The new Ms O'Brien said the whole thing is "crazy" and "overwhelming".
And what does her husband have to say?
"The response to this has been astounding. Thanks, the internet.
"And Twitter, we guess".
Following coverage of the wedding by the BBC, the current social media manager for the @WaterstonesTCR Twitter account joked they were "desperately single. Will marry for retweets."