Service for soldiers killed in 'Battle of Arnhem'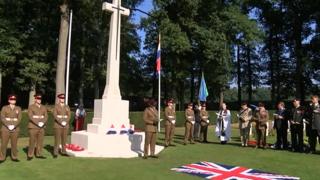 Two soldiers from the North East have been honoured at a special service in the Netherlands after remaining unidentified for more than 70 years.
Pte Harry Vasey from Durham and L/Cpl Raymond Halliday from Stockton, were killed during Operation Market Garden in Oosterbeek in 1944.
They were eventually identified by UK and Dutch officials after laying in anonymous graves for decades.
A rededication service was held at a military cemetery in Arnhem.
Both men were part of the 1st Airborne Battalion, The Border Regiment, and were among six British servicemen killed in the military operation made famous in the film A Bridge Too Far.
Market Garden involved 30,000 men who were tasked with securing eight key bridges. But communication and supply problems led to positions being abandoned and heavy losses.
More than 1,400 Allied troops died and more than 6,000 were captured by German forces.
The family of L/Cpl Halliday attended the service, where his name was finally carved onto a headstone. No-one from Pte Vasey's family has yet been traced.
Since World War Two, a section of the Royal Netherlands Army has been working with the Ministry of Defence (MoD) to identify the graves of unknown soldiers killed in battle.
Brigadier Peter Rafferty said: "At the time there was no means of identifying individuals, only that they were from this regiment.
"But a combination of dental records, war records and some great work by both the Dutch and the MoD have finally, after 72 years, allowed their known last resting place to bear their names."