Francis Benali embarks on 1,000-mile stadium running and cycling challenge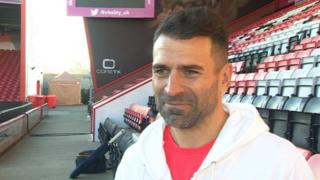 A former footballer has begun an attempt to run and cycle to every Premier League and Championship stadium in two weeks.
Francis Benali, 47 who made more than 300 appearances for Southampton FC, is aiming to run a marathon and cycle about 75 miles (120km) each day.
He set off from Bournemouth earlier on the first leg of the challenge to raise money for Cancer Research UK.
Ahead of the start, he admitted to feeling "nervous and apprehensive".
"I'm ready. It'll be good to get the first day out of the way and hopefully the legs won't be too tired at the end of it," he added.
Benali was cheered by well wishers when he left Bournemouth's Vitality Stadium shortly after 08:00 BST heading for Bristol. By late afternoon he had made it as far as Radstock in Somerset.
The planned 1,000 mile (1,600 km) route linking 44 football clubs, takes him into South Wales then the Midlands and the North-West before crossing the country and returning via East Anglia and London.
He is due to arrive back at Southampton's St Mary's Stadium on 16 October ahead of their match against Burnley.
"I am a bit nervous because I know the pain that lies ahead. I just want to get it completed and make it a success.
"The disease has not gone away and the charity still need funds as desperately as ever so that will be my motivation through the pain of this challenge," he said.
In 2014 he completed challenge running to all 20 Premier League grounds.