County Durham teaching assistants announce more strikes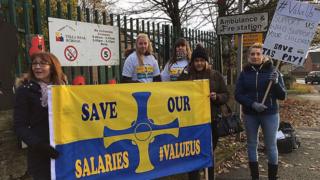 County Durham schools are facing further disruption with the announcement of another 48-hour strike by teaching assistants.
The support staff are protesting against the county council's proposal only to pay them during term time.
About 100 schools had to close or cut lessons during a two-day stoppage earlier this month.
The Unison and ATL unions said the latest strikes would take place on 23 and 24 November.
Durham County Council said it was disappointed at the fresh strikes as it had offered more talks.
'Mitigate losses'
Union bosses say the county council's proposals would see some people lose about 20% of their salary.
A joint statement from the unions said: "This decision is not one that has been taken lightly, but when we have seen how much others value us, it is only fair that our employers do too.
"We simply ask to be regraded to mitigate our losses and have never asked for more."
A council spokesman said: "We are extremely disappointed to have learnt about a second round of industrial action.
"It is particularly frustrating given that, despite offering to talk to Unison again last week, further industrial action has been announced.
"We appeal to the unions and the teaching assistants not to progress with this action but equally we would hope that, as was the case last time, the vast majority of schools will be open and the majority of teaching assistants will be at work as normal."
The council is worried it could face equal pay claims from other employees if it does not make the cuts.