Crewe's university campus earmarked for closure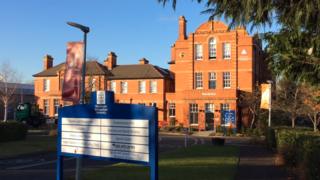 Crewe's university campus could be closing its doors.
Manchester Metropolitan University's (MMU) board of governors, which runs the Cheshire campus, has said it is "no longer academically or financially sustainable."
At a meeting earlier the board endorsed a preference to withdraw from the site.
The University and College Union said MMU is creating a high level of uncertainty for staff and students.
UCU Northern England regional official Martyn Moss said: "Instead of considering withdrawal from the campus, the university should invest to strengthen its innovative educational offering.
"Today's decision has created a high level of uncertainty for staff and students."
'Only viable solution'
The campus on Crewe Green Road offers courses in sports science, contemporary arts and business management and has its roots as Crewe College of Education, established in 1908.
The number of students has dropped from nearly 6,000 in 2003 to 1,674 in 2016.
Vice Chancellor Professor Malcolm Prees said a review commissioned by the university "concluded that the only viable solution is withdrawal from the campus" but added it would consult on the matter before making a final decision by March 2017.
Teaching will continue until at least summer 2019.
The National Union of Students said it would be making sure the board continues to invest in the campus over the next three years.
"It is inevitably disappointing to see that the campus may close, however we have also seen how the overall student experience has diminished due to the falling student numbers and increased difficulty to get involved in opportunities," a statement said.
Cheshire East Council said it would establish a task force to "secure the best possible outcome" for the site.