MRI scan delays causing East Midlands patients 'distress'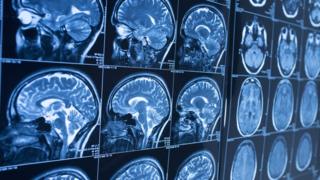 A GP has said delayed MRI results are causing "considerable distress" and wants a helpline for patients affected.
The East Midlands Radiology (EMRAD) Consortium, which links 12 East Midlands hospitals, has faced problems with a new £30m digital imaging system.
Dr Nainesh Chotai, based at Glenfield Hospital, Leicester, said there had been a lack of information.
NHS bosses apologised for "teething problems" but said the backlog would not be cleared until the new year.
'Unacceptable' wait
Hospitals in Leicester, Mansfield, Lincolnshire, Kettering and Northampton have all been affected, with hundreds of patients involved.
Richard Danvers, 50, from Leicester, who has an arteriovenous malformation (AVM) which affects the brain, said he chased up his MRI scan results himself.
He made a formal complaint to the Leicester Royal Infirmary in October.
He said: "I think there's any number of people in a similar condition waiting, without chasing to the extent that I chased it, and I think that's unacceptable."
Dr Chotai, chairman of the Leicester and Leicestershire Local Medical Committee, said the NHS needed to explain the delays.
He said: "This sort of lack of information is causing [patients] quite considerable distress.
"There should be a telephone helpline for patients to ring up to gauge some idea of when their results should be available."
Delays affected 1,300 MRI scan patients in Leicester in October and, by the end of November, 738 patients had been waiting more than four weeks.
The University of Leicester Hospitals Trust said high demand and staff shortages had added to the pressure of implementing the new system.
In a statement it added they were "very sorry there was a delay in receiving the results of the scan" and "it will take until the new year to clear the backlog...with extra sessions"
It explained the issue as "teething problems" and there was "a backlog of scans caused by transferring all the information from one system to another".