Duncan Tomlin arrest death: Police face no charges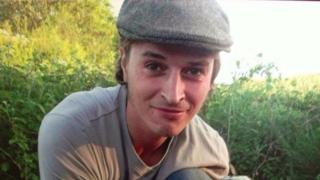 Five Sussex police officers will not be prosecuted over the death of a man who was restrained during an arrest due to a lack of evidence.
Duncan Tomlin, 32, from Oxfordshire, was restrained and put in a police van in Haywards Heath on 26 July 2014.
He was taken out of the van and given CPR when he became unresponsive but died in hospital two days later.
The Sussex Police Federation said it was "delighted" the officers would not be prosecuted.
The Independent Police Complaints Commission (IPCC) passed a file to the Crown Prosecution Service (CPS) in April.
A CPS spokesman said it had reviewed the available evidence against the officers and concluded it did not meet the "evidential test".
It added: "[We] have informed the family of Duncan Tomlin of our decision not to charge the officers.
"We will be setting out our reasoning in detail to the family in the new year and offering them a meeting."
The IPCC said it would await the "full decision rationale" from the CPS.
Before the decision, Mr Tomlin's father Paul called on Sussex Police to suspend the five officers - a sergeant and four police constables.
Sussex Police said: "We await the response of the Independent Police Complaints Commission with regard to the next steps in the process."