Crewe railway station platform chosen for new art piece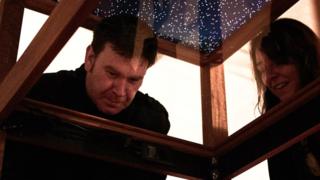 A new interactive art installation has been unveiled - on platform six of Crewe railway station.
The piece, by Laurence Payot and a team from York University, makes "ever-changing shapes" in response to passengers' hand movements.
Ms Payot said the work, called Living Sculpture, was about "communication, connections, encounters".
It is part of Cheshire East's Shift programme which aims to bring "digital experiences" to "surprising spaces".
It can be seen daily by commuters until 7 April.
The Liverpool-based artist added: "What excited me most about showing the work in Crewe Station is the fact that strangers might come together for a moment to experience the work.
"I love places of transition, when you're shifting from one place to another."
Mark Taylor, Virgin Trains station manager for Crewe, said: "Tens of thousands of commuters will pass through the station in the next month, and I'm sure Laurence's engaging work will inspire a lot of comment, interaction with fellow passengers and generate a few smiles too."