Dog thrown from moving van on to M23 breaks legs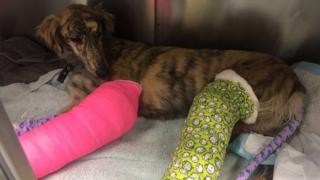 A dog broke two of its legs when it was launched out the window of a moving car on a motorway.
The female lurcher cross was seen being thrown from the back of a vehicle, believed to be a van, on the M23 just north of the Gatwick junction.
The witness, a passing motorist, stopped to help the canine, and contacted Surrey Police, who are appealing for witnesses.
PC Sam Ainsworth said: "This really is a cruel and distressing incident."
The dog was ejected from the vehicle while it was travelling northbound between junctions nine and eight, at about 16:00 GMT on Thursday 2 March.
PC Ainsworth added: "I'm appealing for anyone who knows who might be responsible to do the right thing and call us with information so we can bring the offender to justice.
"I'm sure there must have been other motorists who witnessed the events... and I would urge them to get in touch."
The dog is now being cared for by an animal charity.