WW2 soldier killed in Italy to be reburied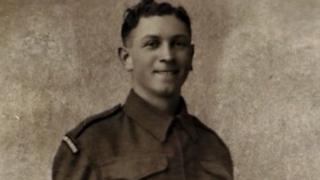 A young British soldier whose remains lay undiscovered in Italy for almost 75 years will finally be laid to rest.
L/Cpl Ronald Blackham, from Cheshire, was killed as he stormed a German-held hill in southern Italy in 1943, at the age of 22.
His remains were found in February 2014 in a shallow grave near the village of Capezzano by military historians.
His 80-year-old sister Alma Williams said the discovery had left her "speechless".
She said: "Our first thoughts, my brother and I, we thanked God at last they've found him."
'Missing presumed dead'
Ammunition from an Enfield rifle and the Coldstream Guards cap badge indicated the remains were of a British soldier.
His identity was confirmed after the Ministry of Defence carried out a DNA test with his brother, Douglas.
L/Cpl Blackham, of the 3rd Battalion Coldstream Guards, was born in Weaverham, near Northwich, on 6 October 1920 - the eldest of four boys and two girls.
After leaving school he worked for the Imperial Chemical Industry until he joined the army, enlisting on 18 June 1940 aged 19.
In September 1943 the Allies landed on the Salerno beaches in Italy, their first major landing in occupied Europe.
The Coldstream Guards were brought in to mount an attack on Hill 270, north of Salerno, using thick trees as cover to infiltrate the bottom of the hill.
As they left the woods German machine gunners opened fire, causing 120 casualties, including L/Cpl Blackham.
Mrs Williams remembers how a man on a bike came to the house to deliver the news.
She said: "I was with mum at the front door, she opened this envelope and collapsed on the stairs with a stroke after reading it - 'missing presumed dead'.
"I had to go and get dad out of bed. He came and carried her up the stairs and she didn't speak for six weeks."
Mrs Williams will travel to Salerno with 18 other members of the family to see her brother buried at the war cemetery later.