Ex-footballer Adam Johnson loses child sex case appeal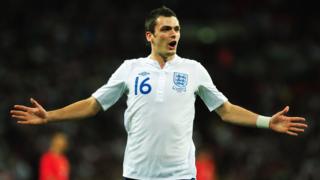 Ex-England footballer Adam Johnson has lost a Court of Appeal challenge against his conviction for sexual activity with a schoolgirl.
The 29-year-old was jailed for six years last March for sexually touching and grooming the 15-year-old fan.
The former Sunderland player was refused leave to appeal his conviction and sentence in July and launched a second bid.
Three judges rejected the latest appeal and a bid to reduce his sentence.
Johnson admitted meeting a child following sexual grooming and one charge of sexual activity before his trial at Bradford Crown Court.
Jurors found him guilty of sexual touching, but not guilty on a charge relating to another sexual act.
The court heard the sexual activity with the girl happened in the footballer's Range Rover in January 2015, after he had groomed her using social media apps.
At sentencing the judge told the former winger - who had played 12 times for England - he had "every opportunity" to enter guilty pleas to the charges he finally admitted.
He said there had been had "an abuse of trust" and he had caused his victim "severe psychological harm".
At the appeal hearing, Eleanor Laws QC argued against her client's conviction on the grounds the trial judge "misdirected" the jury on issues of his "credibility".
'All move on'
However, Lady Justice Rafferty, Mr Justice Sweeney and the Record of Sheffield, Judge Julian Goose, disagreed and said while the trial judge made an "error" regarding a direction during summing up, "it did not imperil the safety of the conviction".
It was also argued the sentence was too harsh as the judge was "was clearly highly influenced by the fact that the applicant was a famous and successful footballer and, in fact, counted that against him."
But the ruling by the previous appeal judge, who had said though the sentence "may be stiff, even severe, I do not consider it... manifestly excessive", was upheld.
Durham Police said in a statement: "This has been a protracted case for the victim and, indeed, everyone connected to it.
"Hopefully this will now draw a line under it and we can all move on."