Hidden Hans Feibusch church mural to be restored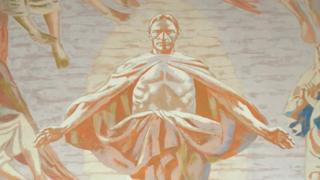 A "hidden" mural in a Coventry church is to be restored and returned to public display after more than 40 years.
The 40ft mural, by renowned German Jewish artist Hans Feibusch, is located on a wall inside St Mark's Church in the city's Swanswell area.
In 1972 the church was turned into a health centre and the mural was hidden behind a partition wall.
However, the Diocese of Coventry is now reopening and restoring the building.
The church, which was built in 1869, is being reopened in a joint project between the diocese and Holy Trinity Brompton, in London.
The Reverend Phillip Atkinson, minister in charge at St Mark's, said: "The church was given over to the NHS in 1972 and for many years it was used as a clinic.
"All the time behind this wall here was the mural waiting to be revealed.
"We are going to renovate the building. The remnants of what was left by the NHS will be cleared out.
"We are going to turn it back into a church and enable people to see the mural and worship in this place once again."
The Coventry Society, the city's civic group, has spent many years trying to raise the profile of the mural.
Committee member John Payne said: "When the church was taken over by the NHS, they built a partition and created a chapel at the end where the mural was, but it was hardly used.
"Over the years, hundreds of thousands of people have walked past the wall without knowing the mural was there.
"Coventry has a very important piece of work in the city that it didn't realise it had."
---
Who was Hans Feibusch?
Feibusch was an artist who won the German National Prize for his work
However, he was forced to escape from Germany after his work was featured in the 1937 Degenerate Art Exhibition put on by the Nazis to single out the modern style they saw as causing "cultural disintegration"
Once in Britain, the artist painted church murals and later converted to become a member of the Anglican church
He has famous works on display in Dudley and Newport town halls and in several buildings in the Chichester area