Brexit, Elections and Revolts. But what about Labour?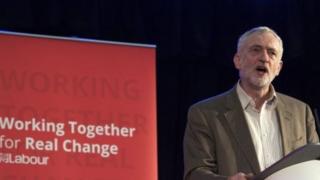 In normal times this would be a gift for a Labour opposition.
The Conservatives anxious about Europe yet again, just as Theresa May confirms she will trigger Article 50 next Wednesday, setting Britain on course for two years' of intensive and, for her party, divisive negotiations over the terms of the Britain's exit from the EU.
Downing Street damping-down yet more speculation about an early election: surely any opposition worth its salt would want an election as soon as possible.
And persistent talk of Conservative backbench revolts which make Theresa May's 17-seat majority look precarious to say the least.
Last week the Government Chief Whip and South Staffordshire MP Gavin Williamson had the unenviable task of telling the Prime Minister and the Chancellor that the increase in national insurance contributions for millions of self-employed workers, proposed in the budget, had insufficient support on the Tory backbenches. That led to one of the more embarrassing climb-downs in the long history of government U-turns.
Then, as if to cap it all, Geoffrey Clifton-Brown, the normally impeccably loyal Conservative MP for the Cotswolds, leading a delegation to the Prime Minister and later warning Education Secretary Justine Greening that her proposed education funding formula "would not be carried in its present form".
But these are not normal times.
Latest polls put Labour nearly 20% behind the Conservatives.
The decision by the party's Deputy Leader, West Bromwich East MP, Tom Watson to go public with his accusations about a "secret plot" by the hard left for the Corbynist Momentum campaign to be directly funded by the Unite union merely reinforces perceptions of a party more determined to fight itself than to take-on the Tories.
Mr Watson may, or may not, be seeking to deliver a collateral boost to Unite's Midlands Regional Secretary Gerard Coyne's election campaign to overthrow the current leader Len McCluskey, who just happens to be one of Jeremy Corbyn's most powerful allies: polling opens next week in a contest billed as a battle over the leadership of the Labour Party itself, with the result expected at the end of next month.
By stating openly that Labour is risks being "destroyed as an electoral force" Mr Watson adds to the impression that despite, or possibly because of, its record membership numbers the party is further away from returning to office than at any other time in living memory.
I am even hearing persistent reports of Labour MPs saying they hope their party's candidate Sion Simon will lose the election for Midlands "Metro Mayor" because of the extra pressure that would put on Jeremy Corbyn. Mr Simon, incidentally, has been refused funding by the Unite union because of his links with Mr Watson.
Polls apart?
Nearly two million people in the West Midlands conurbation will have the chance to vote in that mayoral election. Polling day is Thursday 4 May 2017. Which leads me back to where I began. Because that's the date when a significant number of Conservative MPs, reportedly including several Cabinet ministers, would also like to see that snap general election.
They argue that if Theresa May were to pounce while Labour are at a historic low point, she could remove the threat of those Tory backbench revolts, and strengthen her government's position in terms both of the Brexit negotiations and of machinations north of the border for a second Scottish independence referendum.
Gavin Williamson needed no reminding from me about the clamour within his own ranks for an early election when he joined me recently on "Sunday Politics Midlands". He told me "people expect the government to get on with the job of delivering Brexit" and would not view kindly the prospect of an election being called for the sake of party political advantage.
There are other reasons, too, why Tory strategists reject a snap election, whatever its superficial attractions.
Consider for a start the difficulty of writing anything meaningful about Brexit into an election manifesto without creating any number of hostages to fortune.
Consider too the possibility of by-elections in Conservative marginal seats now that Gloucestershire and Staffordshire have been confirmed among the twelve police forces which have sent files to the Crown Prosecution Service about the party's 2015 election expenses: would the party tell their MPs in key seats that they cannot stand this time just in case? Or that they CAN stand, for that matter?
Finally, the Conservatives may reckon that Labour could be in no better shape to fight a general election in two or three years' time than they are now, so why the hurry?
We'll see.
But there is certainly more than enough for us to talk about on this weekend's Sunday Politics Midlands.
I'll be joined in the studio by the Conservative MP for Meriden, Dame Caroline Spelman and the Labour MP for Birmingham Northfield, Richard Burden. And I hope you will join us too. We are in our usual 11.00 slot on BBC One this Sunday morning.