Handcuffs caused delay for dying Stoke Heath Prison inmate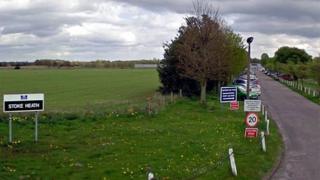 A delay in treating a handcuffed prisoner who had suffered a cardiac arrest could have contributed to his death, an inquest jury concluded.
Medics could not use a defibrillator on Richard Grindon for nine minutes, as he was still bound to a Stoke Heath prison officer.
A second prison officer, who had the key to the handcuffs, had gone for a drink and taken the key with him.
Jurors at the inquest in Shropshire returned a unanimous narrative verdict.
See more stories from across Stoke and Staffordshire here
The hearing, in Shrewsbury, was told Mr Grindon, 52, from Fenton, Stoke-on-Trent, suffered a cardiac arrest at the Princess Royal Hospital in Telford in October 2015.
He was handcuffed to a prison officer, while a second prison officer was in charge of holding the keys, which was normal procedure when taking inmates to hospital.
Hospital staff could not use the defibrillator on Mr Grindon, who was serving a six month sentence, as it would have sent a shock through both men.
Chest compressions were started but it was nine minutes before the second officer could be found and the defibrillator used. Mr Grindon died 40 minutes later.
Consultant cardiologist Dr Abdallah Al-Mohammed told the inquest that even if the defibrillator had been used immediately, there would still only have been a 60% chance of survival.
In a statement the jury concluded the delay had possibly, but not probably, reduced his chance of survival.
They said that the delay was avoidable, but the officers were following the policy guidelines at the time and had done nothing wrong.
Guidelines relating to the transfer of prisoners to hospital have now changed as a result of a number of incidents, the hearing was told.
A Prison Service spokesperson said: "This is a tragic case and our thoughts are with the family and friends of Richard Grindon.
"HMP Stoke Heath has already put in place a number of measures to better support the safety of offenders in custody. We will now carefully consider the findings of the inquest."