Follow Faces of England on Instagram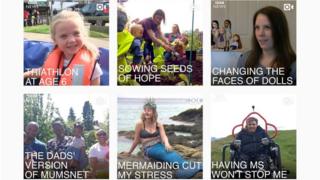 Our Instagram page Faces of England features the best stories about inspiring people from around the country.
Some of the people whose tales we've featured already include a six-year-old girl with cerebral palsy whose completed a triathlon, the fathers trying to make a dads' version of Mumsnet, a woman who became a mermaid to tackle her anxiety, and a mum-of-three who shed nearly half her bodyweight when she changed her lifestyle and took up weight training.
Follow our account for the latest posts or use the hashtag #facesofengland if you've got a story to tell.
And if you like photography we also post daily on Instagram as England's Big Picture.