Hadrian's Wall ferret fundraising hike for RAF man's mum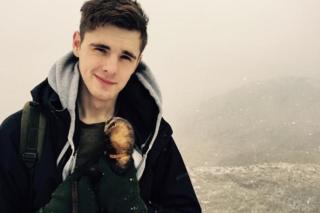 A man and his pet ferret are to walk the length of a major landmark to raise funds to fight motor neurone disease, which killed his mother.
Charlie Hammerton, from Ipswich, plans to hike Hadrian's Wall from Newcastle to Carlisle with Bandit in four days.
The 22-year-old RAF airman said it "might seem a slightly crazy thing to do".
"It's going to be extra hard to complete with a hiking partner who is just 6in tall," he said.
"Sharing a tent is no fun as, while he sleeps like a log, Bandit also stinks like only a happy healthy ferret can."
Mr Hammerton is raising money for St Elizabeth Hospice in Ipswich, where his mother died, and the Motor Neurone Disease (MND) Association.
"It's good to be able to throw myself into planning the hike and doing something positive," he said.
He will embark on the 84-mile (135km) walk a few days after his mother's funeral.
"I'm aiming to be the fastest man and ferret to walk the entire path," he said.
"Bandit is good company and goes most places with me but his conversation is limited so it would be great to meet up with any locals along the way for just a few miles of this expedition."
There is no cure for MND, which attacks the nerves that control movement, leaving people unable to move, talk and, eventually, breathe.