The people who changed careers and never looked back
By Julia Bryson
BBC News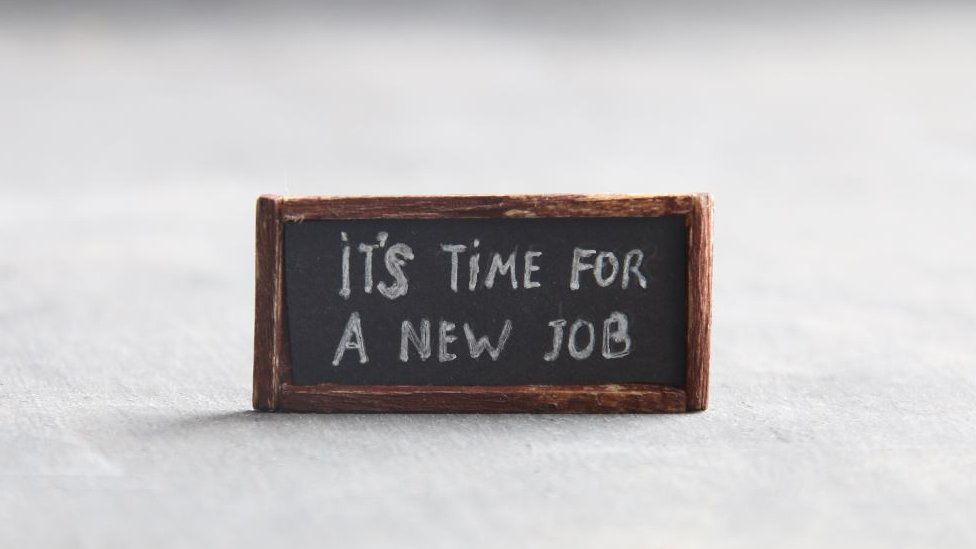 There was once a time when you left school and got a job for life. These days, many of us move around from post to post in the same industry, while others change careers completely. Five people who took the plunge and tried something new share their stories.
SJ Watson was an audiology specialist before penning the international bestseller Before I Go To Sleep, which was turned into a Hollywood film.
While working with hearing-impaired children at St Thomas's Hospital in London, he tried to write fiction in the evenings but as his workload increased, his time got increasingly tight.
Things peaked in 2008 when his head of department announced his intention to retire.
"The next logical career step for me would have been to go for his job," said Mr Watson.
"But I remember feeling very strongly that I just didn't want to do that. It would have meant the end of any writing ambitions.
"I had a really clear sense that I was at a crossroads and I remembered that as a child my ambition had been to have a book published, not to be head of an NHS department."
The 46-year-old left his job and managed to find a part-time post in a nearby hospital.
"As soon as I got that job I I knew it was the right choice, as straight away all my excuses not to write disappeared.
"I treated it as two jobs, I'd work in the NHS three days a week and then on my novel the other four... and in the evenings on my NHS days, too."
The author felt leaving his steady job was a giant leap into the unknown, but one he knew he had to take.
"I realised I couldn't live with myself if I got to the end of my life and realised I'd never really, seriously, tried to write a book," he said.
"I knew I'd have to make sacrifices, but that seemed worth it. And as soon as I started, well before the book was even finished - let alone a success - I knew I'd made the right choice, because I was doing something for me."
From courtroom to kitchen
Nisha Katona is the brains behind the "twisted Indian" eatery Mowgli Street Food, which has four branches.
The 47-year-old spent 20 years as a family and child protection barrister before opening her first restaurant on Bold Street, Liverpool, in 2014.
She had spent years building her passion for food before quitting her day job.
"I was working as a barrister and all the while I was teaching other lawyers and judges about cooking at my home and our local farm shop kitchen.
"I started a YouTube channel as I am evangelical about how simple and healthy Indian food is and how different eating at home is to what we see in the curry houses."
Mrs Katona said it became clear people were flocking to her cookery classes because they wanted to taste her food.
She said the ultimate test was to open her own premises and "every brick" of Mowgli was designed by her.
"I'd finish court and go and stand in the corner of restaurant kitchens in a suit and see what you needed... and what it is to have a commercial kitchen," she said.
While researching the Liverpool branch, she said she used to park outside the premises and study how many people were going into neighbouring restaurants and what their demographic was.
Fortunately for her, the hard work paid off.
"This is my new life [and it] is full of excitement and joy," she added.
A better work-life balance
Former Army officer Paul Rawlinson, 33, spent five years in the forces before setting up a Scandinavian cafe in Harrogate, North Yorkshire.
The idea came after he decided his career would not fit in with the family life he and his wife wanted to create.
"In the first five years I had lived in six different places, and I knew there would be at least three moves in the next three years if I stayed.
"It was more of a personal decision with what we were planning to do together. We wanted to start a family, and the idea of hopping around from posting to posting did not fit with that."
Baltzersen's, which uses locally-sourced ingredients to create Nordic-style food, has won rave reviews since it opened in 2012.
It was inspired by the food Mr Rawlinson's Norwegian grandmother Liv Esther Baltzersen used to cook him when he was a child, such as traditional serinakaker biscuits and waffles.
In 2014, the venue started offering an evening menu under the name Norse, and its success has seen it move to a new venue in its own right.
Mr Rawlinson said: "I wouldn't say I have any regrets, I'd do some things differently but then who wouldn't - especially entering an industry with limited experience."
'I just thought, this is crazy'
Karen Beddow felt she was sacrificing time with her young family while working 12-hour days as a property litigation lawyer.
She now runs a family travel blog from her home in Wirral, Merseyside.
"As well as being a lawyer I sat on two boards - one as a non-executive director of a housing company and as chairman of the trustee board at a care home," she said.
"There was one particular day where I went to the office at 7.30am, spent my lunch hour on an hour-long phone call, and ran out the office at 7pm to get to a board meeting.
"I got home at 9pm and was still making dinner at 9.30pm. I then sat down and wrote three blog posts, just because that's what I loved doing and how I switched off, odd as that sounds."
At the time, she had three daughters under five, and Mrs Beddow, 39, felt changing her career would be the best thing for her home life.
"I just thought, this is crazy, the kids aren't seeing us. Our eldest daughter had just started school and was wanting more from me.
"She wanted to talk to me about her friendships and what she liked and didn't like at school. I wanted to be there."
In September 2015, Mrs Beddow's blog, Mini Travellers, won several awards and she started wondering whether she could turn it into a career. Two years in, she said she has no regrets.
"It is working out perfectly for us as a family. Our childcare costs have gone, I am not paying for a nanny or the after-school activities that we did before.
"It was absolutely the right decision, no hesitation."
Sarah Smith spent 10 years working in the NHS as a radiotherapist. Although she loved her job, she knew it was time for a change and decided to retrain in acupuncture, aged 30.
"I reached a point where I wanted new challenges," she said. "I always enjoyed my job and knew I wanted to work with the public, but I felt unfulfilled at work.
"They wanted me to stay and go up a level [but] I knew that wouldn't suit me. I thought, do I want to be doing this when I'm 60? And the answer was no."
Ms Smith, from Ilkley in West Yorkshire, said the seed was sown when she overheard a midwife asking a patient if they had tried acupuncture for morning sickness.
After doing some research, she enrolled on a three-year training course which ran at the weekends. She was able to continue working for the first year before going part-time for the final two.
Now fully qualified and with her own clinic, Ms Smith is self-employed and said it allowed her to manage her childcare more easily.
"I would say acupuncture enables me to take all the best bits of my NHS job to the clinic," she said.
"I have time with people, I am trying to help them and make them feel better. That is very rewarding, and was worth the risk."
Related Internet Links
The BBC is not responsible for the content of external sites.