West of England metro mayor hopefuls confirmed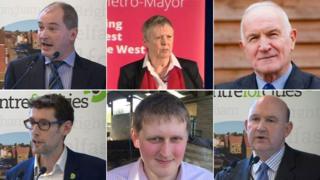 Six candidates have put their names forward for the upcoming West of England metro mayor elections in May.
The metro mayor role covers Bristol, South Gloucestershire and Bath and North East Somerset council areas.
The £62,000 salaried post is part of government efforts to devolve more power to the regions over key issues such as planning and roads.
There is one independent and candidates from the Conservatives, UKIP, Green Party, Labour and Liberal Democrats.
The candidates are:
Tim Bowles - Conservative Party
Aaron Warren Foot - UK Independence Party (UKIP)
Darren Edward Hall - Green Party
Lesley Ann Mansell - Labour and Co-operative Party
John Christopher Savage - Independent
Stephen Williams - Liberal Democrats
Bath and North East Somerset Council, which is organising the election, has said those registered to vote will receive a mayoral election booklet and a campaign statement from each of the candidates.
As part of the devolution deal, the four councils will be given £1bn over 30 years to help plan new homes, regional transport and business growth.