Man wins £60,000 as Jack Grealish goal seals accumulator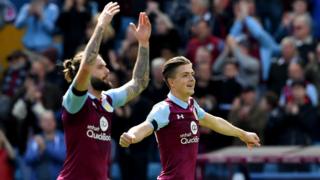 An 89th-minute Aston Villa goal that put Newcastle United top of the Championship has won a football fan more than £60,000.
In a £10 bet the man, from the Scottish Borders, chose seven league winners.
Jessica Bridge from bookmakers Ladbrokes said accumulator bets "normally come agonisingly close but hit the crossbar in extra time".
"Our customer now has 60,000 reasons to thank Jack Grealish for his vital goal last weekend," she said.
The man, who is in his 50s but did not want to be named, placed the bet before the start of the season.
The sevenfold accumulator - which would only pay out if all the predictions were correct - earned him £60,734.38.
In order for the bet to succeed, Newcastle had to better Brighton and Hove Albion's result on Sunday during the final Championship games of the season.
Grealish's late equaliser against Brighton ensured the bet was a winner, with Newcastle beating Barnsley 3-0.