Sex offender who preyed on elderly women jailed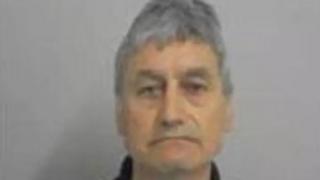 A "ruthless" sex attacker who preyed on elderly women in their homes been jailed for eight years.
Richard Saillet, 64, from Hillmorton in Rugby, assaulted his victims in the West Midlands, Oxfordshire, Worcestershire and Northamptonshire.
Police said he targeted the women because of their vulnerability.
The sex offender was sentenced at Oxford Crown Court on Thursday after a year-long investigation into his crimes.
On 8 March 2016, in Halesowen, Saillet forced his way into his victim's house before assaulting her.
'Dangerous man'
On 27 April 2016, in Oxford, he called his victim a week in advance, claiming someone needed to visit her property for a survey.
Saillet, of Crick Road, then said he needed the toilet, but his victim found him in her son's bedroom, where he forced her on to the bed and assaulted her.
He also attacked a woman in Bromsgrove on 3 May, and another in Greens Norton, Northamptonshire, on 19 May, when Saillet physically assaulted his victim when she tried to resist him.
Senior crown prosecutor Jeremy Taylor said: "He is clearly a calculated, ruthless and dangerous man.
"This prosecution would not have been possible without the courage of the victims, who were willing to support proceedings.
"I commend them for their bravery."
Saillet initially denied the four counts of sexual assault he faced, but pleaded guilty after DNA evidence, number-plate recognition software and mobile phone site analysis placed him at the scene of his crimes.