Bath tipper truck crash: Firm's advisor loses haulage licence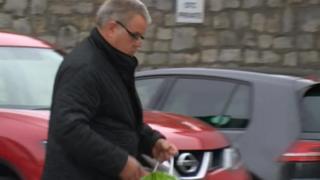 A haulier linked to the firm involved in the Bath tipper truck crash in which four people died has lost his licence.
Simon Nicholls operated three trucks from Whites Farm in Wiltshire and carried out safety checks for Grittenham Haulage, also based there.
Grittenham Haulage was responsible for the crash in Bath in 2015. The firm's owner and mechanic were both jailed.
Concluding the public inquiry, the traffic commissioner described Mr Nicholls' actions as "scary".
'Lack of knowledge'
Earlier, inspectors said they found a series of problems including vehicles being used without proper safety checks, a truck with the wrong number plate, and evidence Mr Nicholls drove a lorry displaying the wrong driver's licence.
They added that Mr Nicholls showed a lack of understanding of compliance.
He told the inquiry he was test-running vehicles, but the traffic commissioner, Kevin Rooney, said one was spotted on the road 53 times.
Mr Rooney said: "I do not accept you were not operating commercially, it's inconceivable no other journeys were being made.
"One of the main requirements for a haulier is professional competence. I'm afraid today you've demonstrated a lack of knowledge."
Mr Nicholls' solicitor Liz Highams said her client accepted mistakes had been made but they could not be corrected.
His operators' licence will stop on 2 June for a period of time yet to be determined. He was also told he had lost his repute as a transport manager.
During the court case into the fatal tipper truck crash, Grittenham Haulage boss Matthew Gordon said he took advice from Simon Nicholls and that he helped with maintenance on trucks, including the one involved in the collision.
Mitzi Steady, four, Robert Parker, 59, Philip Allen, 52, and Stephen Vaughan, 34, all died in the crash in February 2015.