WW1 DNA soldier reburied with full honours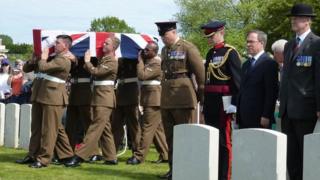 A soldier who died in World War One has been reburied with full honours after his remains were identified by DNA matching.
Pte Henry Parker was identified after DNA from bones found in France in 2015 was matched to his great-nephew.
The soldier, born in Scarborough and raised in East Yorkshire, died aged 22 during the Battle of the Somme.
He was laid to rest with full honours in the Commonwealth War Graves Cemetery at Warlencourt in France.
Pte Parker died on 26 September 1916. His remains were found where he had fallen in a field near Martinpuich.
About 25 members of his extended family attended the ceremony, which came after the Ministry of Defence researched his identity.
Pat Burton, Pte Parker's great-niece said: "It is a great honour for us to be here today to pay our respects.
"We would like to thank the Joint Casualty and Compassionate Centre of the Ministry of Defence for inviting us to the burial ceremony here in Warlencourt, and feel very humble to be part of this occasion and extremely proud of our great uncle."
More than 1,000,000 servicemen were killed or injured on all sides as the British and French armies fought the Germans between 1 July and 18 November 1916.
Steve Erskine, assistant curator of the Green Howards Museum in Richmond, North Yorkshire, said: "It's been a humbling experience and a pleasure to give a man a grave and get his name taken off the wall of the missing."
Mr Erskine said a very distinctive Territorial 5th Battalion, Yorkshire Regiment shoulder badge was found with the remains and initially there were 37 possible names for the soldier.
Once that had been narrowed down to 12, fragments of the bones were sent to a government laboratory in Middlesex to be analysed.
DNA hit a match with Francis Storry from Driffield, in East Yorkshire, leading to identification of the dead soldier.
Responding to the news in February, his relative said: "I am delighted. I feel proud, really proud."