Appleby Horse Fair: Finishing touches put to stopover sites for visitors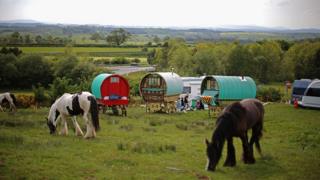 Final preparations are being made to temporary stopover sites for travellers heading to next month's Appleby Horse Fair.
Durham County Council has designated six areas in Teesdale along traditional routes to Cumbria.
The sites, which will include toilets, refuse collections and, in some cases, water supplies for animals, will be open between 26 May and 23 June.
The council said it hoped they would reduce unauthorised encampments.
The fair will be staged from 8-14 June.