Appleby Horse Fair: Armed police patrols after terror attacks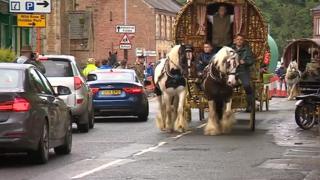 Armed police are to be on patrol at one of Europe's largest Gypsy and traveller events which has begun in Cumbria.
The annual Appleby Horse Fair is expected to attract 10,000 Gypsies and travellers as well as 30,000 visitors over the next six days.
Cumbria Police said the extra police presence was in response to the recent Manchester and London terror attacks.
The fair dates back to medieval times, when it was used primarily for the buying and selling of horses.
Ch Supt Mark Pannone said: "In light of what has happened in Manchester and London we have increased certain patrols and armed patrols.
"But that is not because of anything to do with Appleby, it is to support the wider reassurance campaign that is going on."
Billy Welch, who represents Gypsies and travellers at the event, added: "During planning for the fair we have discussed the situation with the police.
"Like every huge event all over the country we have to be realistic and accept that it is a possibility that something could happen."
By noon on Thursday about 500 caravans and traditional horse drawn bow-top wagons had arrived in the town, which normally has a population of about 2,500.
The RSPCA said it was also planning to have a large presence at the fair, which includes a parade of horses and their ceremonial washing in the River Eden.
The event ends on 14 June.