South West Trains passenger anger over 'hot trains chaos'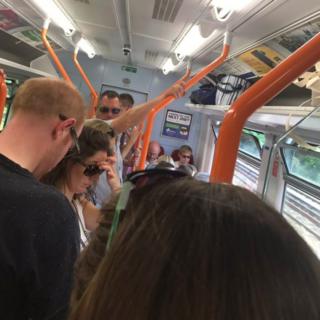 Angry South West Trains passengers have complained of "utter chaos" after travelling in cramped carriages with no air conditioning when some weekend services were cancelled.
The rail provider blamed "a number of incidents" on the network, including a track defect near Totton on Saturday.
South West Trains apologised and said it had provided updates to passengers.
However, Gerald Gibson, from Salisbury, dismissed this as "complete and utter rubbish".
Laura Head, who was travelling from Surbiton in south-west London to Waterloo, said: "We only got tannoy [announcements] at Surbiton station that said 'this train is being delayed' - no information of how long it would take."
Tweeting a picture to South West Trains of a packed carriage she added: "27 degrees and you have cancelled so many trains that there are hundreds of your paying customers shoved into a train with no air con.
"There is no room to breathe! How is this legal...."
'Wrong information'
@CPav87 tweeted: "Hottest day of the year & stuck on a delayed train, AGAIN, where no one knows what's going on."
Mr Gibson said it took him three hours to make the 50-minute journey from Southampton Airport Parkway to Salisbury.
"The situation at Southampton was utter chaos; platform staff tried to help but were constantly given wrong information themselves," he said.
Other issues included signalling problems at London Waterloo and Clapham Junction. There was also an "electricity supply problem" between St Denys and Southampton Central on Sunday.
South West Trains said: "Our staff provided regular updates on trains, in stations and online and provided refreshments to affected passengers while Network Rail worked to repair the issues to allow a full service to resume."
It added "compensation arrangements" were available on its website. It has not yet responded to complaints over a lack of communication or air conditioning.
Network Rail apologised for the disruption.