South Central ambulance callers offered video diagnosis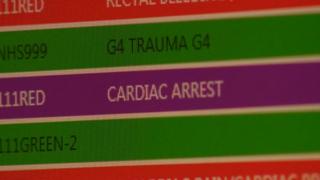 Some patients who dial 999 are being assessed over a video link to see if an ambulance should be sent to them.
South Central Ambulance Service (SCAS) said it was one of a number of ambulance trusts conducting trials.
It said clinicians could diagnose the severity of injuries and symptoms via apps like Skype or FaceTime, improving "patient safety".
Only callers whose condition was deemed non life-threatening would be dealt with that way, SCAS said.
Health union UNISON said video could give NHS call handlers better information than phone calls.
A spokeswoman said: "This was initially started at certain nursing homes who were frequent callers to our service.
"There are some injuries or conditions that are more challenging to assess over the phone with no visual aid."
The trust, which covers Berkshire, Buckinghamshire, Hampshire and Oxfordshire, said the trial was in its "early stages".
Richard Webber of the College of Paramedics said there were "some benefits" to the idea.
"I certainly don't think this will be used for seriously ill patients," he said.
"There are a lot of people who call 999 who don't need an emergency response and it's clear we have to deal with the demand differently to what we have done previously. As long as it's done safely and effectively, it's important we try new technology."
SCAS UNISON spokesman Gavin Bashford said: "The sooner you can get to see a patient the better.
"Using Skype or FaceTime can tell the call handler more than is possible to glean over the phone."