Police Unity Tour remembers fallen colleagues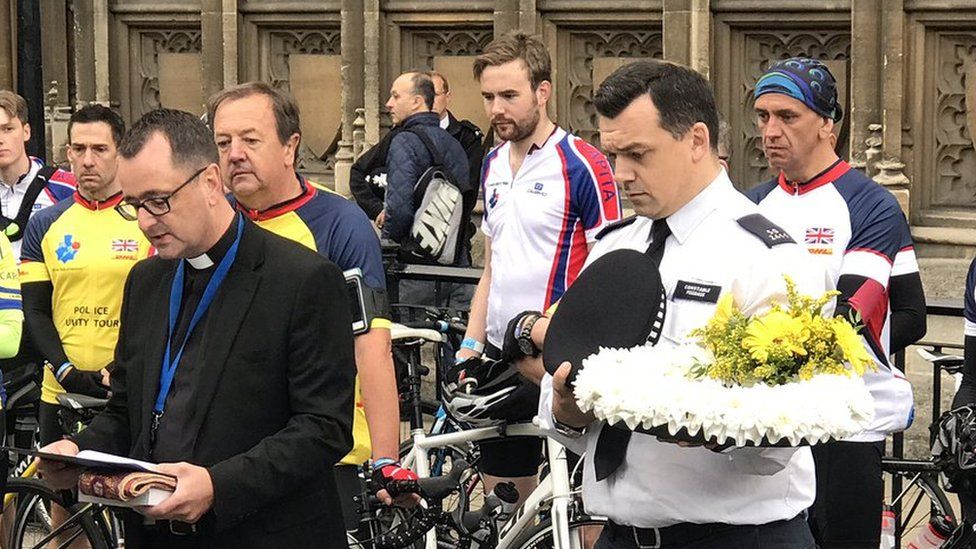 Police officers have remembered PC Keith Palmer ahead of a cycle ride in memory of officers killed in the line of duty.
The riders paused in Westminster, where PC Palmer was killed in a terror attack in March, to lay flowers ahead of the start of the Police Unity Tour.
Cyclists from police forces across the UK set off from different points.
All are due to arrive at the National Memorial Arboretum in Staffordshire on 30 July for a memorial service.
About 250 cyclists were seen off from the UK Police Memorial in Central London by Cressida Dick, the Metropolitan Police Commissioner.
"Remembering all of those who have lost their lives in the line of duty reminds us of the dangers police officers face when doing their jobs and ensures those who have paid the ultimate price are not forgotten," she said.
Each rider is wearing a wristband commemorating a colleague killed in the line of duty.
The Chief Constable of Cleveland, Ian Spittal, is riding in memory of Glenn Goodman, a North Yorkshire Police Special Constable shot dead by an IRA gunman in 1992.
Mr Spittal, who set off with riders from Yorkshire and the North East from York Minster, was a serving officer in North Yorkshire and on duty on the day of the shooting.
"The day he died has stayed with me throughout my police service and I will always remember the shock and devastation after his brutal murder," he said.
The Police Unity Tour started in the UK in 2013, based on a similar event in the United States.
It raises funds for national charity, Care of Police Survivors, which supports the families of officers killed in the line of duty.
PC Darren Kirkwood of Humberside Police, who is taking part for the fourth time and has raised more than £12,000, said the event had gone from "strength to strength".
Related Internet Links
The BBC is not responsible for the content of external sites.