West Mercia PCC fire plan 'may mean front-line staff cuts', FBU says.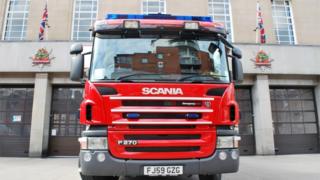 Plans put forward by a police chief to also run his area's fire services may mean front-line staff cuts, the Fire Brigades Union says.
John Campion, Police and Crime Commissioner for West Mercia, has said his plan could save £4m a year.
The FBU in Shropshire said it would "vigorously oppose" any move to remove its fire control from the county.
Hereford and Worcester Fire Service and Shropshire's service are currently overseen by local councils.
Mr Campion's proposal includes a reduction in backroom staff and a move towards a single control centre in Hindlip, Worcester, where West Mercia Police force is based, with claims that frontline staff would not be affected.
West Mercia Police and the two fire and rescue services would continue to operate as individual organisations, he said.
Shropshire and Wrekin Fire and Rescue Authority has met consultants who, they say, highlight a lack of detail behind the claimed savings.
Brigade secretary for the FBU in Shropshire Matt Lamb said: "I cannot see that that magnitude of savings can be made without affecting our operational capability.
"We've suffered quite a number of years of cuts under austerity.
"The initial business case, although it's not clear, seems to imply that our fire control is part of the identified areas for cuts and our fire control... is a front-line service... people of Shropshire want to see our control stay in Shropshire."
Mr Campion said he felt a consultants report "misunderstands key points, contradicts itself, and ignores key parts of the debate".
He said: "The hasty approach taken and conclusions reached reinforce my concerns that this exercise was simply a hatchet job, designed to support opinions that are already fully formed.
"I would stress that this is not about politics, personalities, personal reward, empire building or empire protecting. This is about delivering the best possible services to the public."
A consultation on the plans will run until mid September.