Motorcyclist filmed his own 'wheelie' fatal crash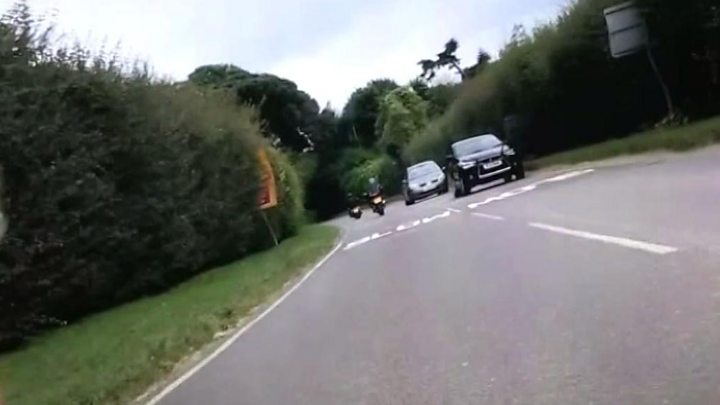 Video of the moment a motorcyclist was killed after filming himself perform "a wheelie" has been released by police in a bid to cut road accidents.
The footage, from an on-board camera, has been released with the support of the man's family to highlight the impact of anti-social riding.
The 50 year old from Surrey was killed in Claypit Lane, Chichester, West Sussex, on 7 August 2016.
The action caused him to lose control and fall in front of an oncoming van.
Sussex Police said he was pronounced dead at the scene.
The footage has been issued ahead of the National Police Chiefs' Council's National Motorcycle Week of Action, which starts on Monday.
The campaign, which is being supported by Surrey and Sussex Police, aims to reduce the number of collisions involving motorcyclists through education and enforcement.
Sgt Phil Badman, of the Surrey and Sussex Roads Policing Unit, said: "This was a tragic incident and some viewers may find this footage distressing. However, it has been released with the full support of the victim's family.
"It is intended to show what can happen when you are not fully in control of your bike.
"Motorbikes are powerful machines and they should be treated as such. Failing to do so can lead to devastating consequences."
Sgt Badman added: "The victim was an experienced rider who had enjoyed numerous outings with fellow bikers prior to this incident.
"He and his friends were all wearing the appropriate clothing and safety equipment, and no-one anticipated that this ride would be his last.
"It was undoubtedly a hugely traumatic experience for all parties involved, and our thoughts remain with them."